The ultimate guide to Hornstrandir, Europe's last wilderness
Hornstrandir is one of Europe's last wildernesses: a breathtakingly beautiful, hard-to-reach nature reserve of soaring mountains and precipitous cliffs.
Hornstrandir
Perched on the furthest tip of Iceland's far-flung Westfjords, it has limited accommodation and transport links, a very short season and challenging terrain. If you plan properly it's perfectly possible to experience the exhilarating beauty of this pristine wilderness. Here's how to plan a visit.
Tucked into Iceland's northwest corner, the 589-sq-km Hornstrandir Nature Reserve (227-sq-mi) has an end-of-the-world feel. Waterfalls thunder down mountains, the midnight sun kisses the ocean, cliffs plummet to the sea and the mighty Drangajökull glacier overlooks the scene.
Hornstrandir occupies a jagged, fjord-scored peninsula and access is largely by fleets of ferries running from the Westfjords' biggest town, Ísafjörður, some 30km (18.6 miles) south.
The nature reserve is one of Iceland's most important strongholds of the protected Arctic fox and is also home to a wealth of seals, whales, puffins, sea eagles, black guillemots and Arctic terns.
Hornstrandir's mountainous interior is edged by a string of campgrounds, huts and hostels, often at ferry drop-off points. Hiking trails snake between accommodation and ferry sites, opening up memorable multi-day hikes.
The reserve is all but uninhabited. Designated a nature reserve in 1975, its last few farmers moved out in 1952 – a handful of their descendants return in the summers to their restored homes. Today, Hornstrandir is managed by the Environment Agency of Iceland, which has produced this handy map.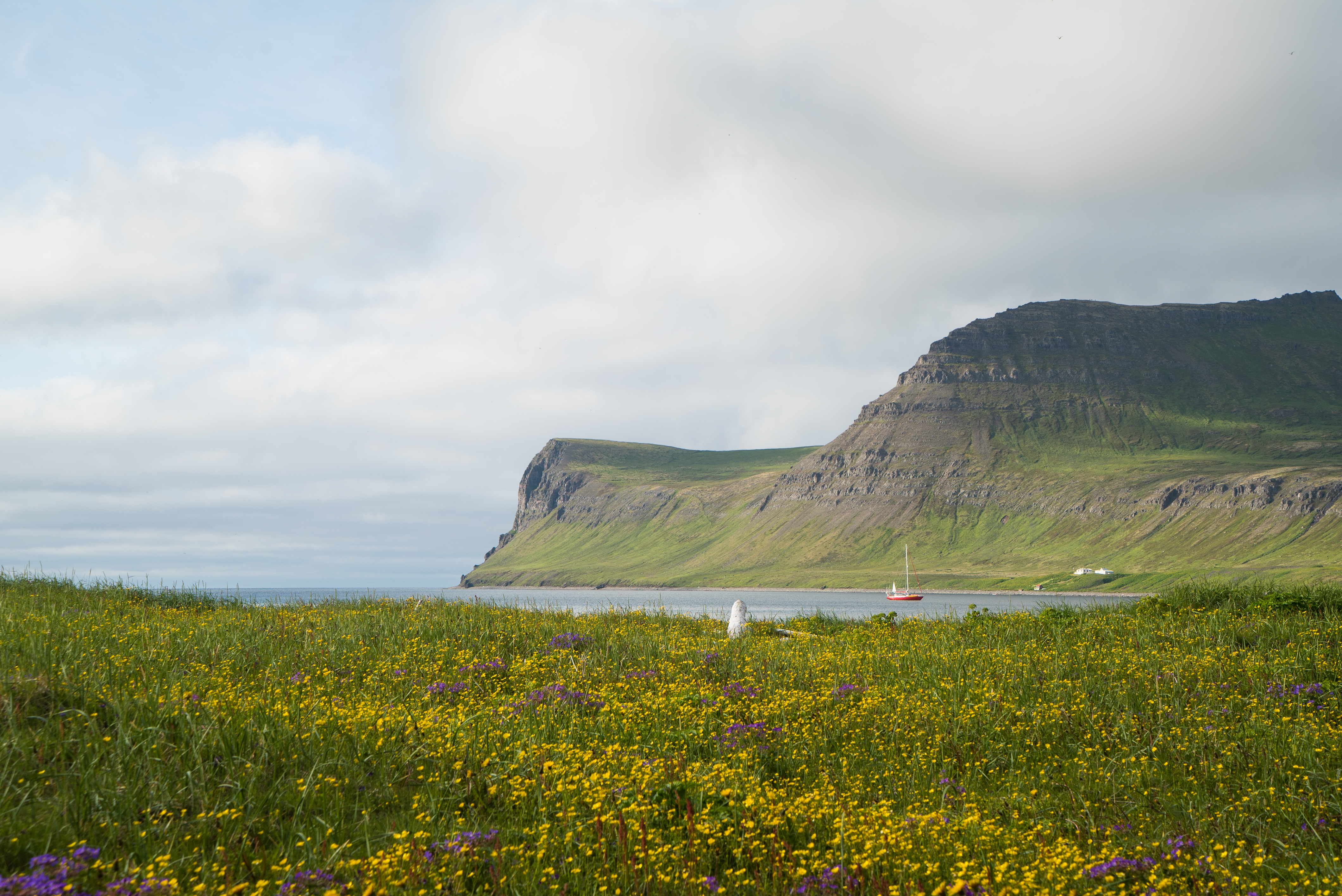 When to visit Hornstrandir
The season on Hornstrandir is short. Ferries only run between June and August. The actual visitor season is shorter still – between late June and mid-August when the handful of hostels and huts are open. Many of Hornstrandir's regular visitors say the best time to visit is an even narrower window, arguing only July gives the best of the notoriously fickle weather.
Where to hike
Hornstrandir is a hiker's paradise. The most popular route is the Royal Horn (or Hornsleið) a four- to five-day hike which crisscrosses the peninsula from Veiðileysufjörður in the south via Hornvík in the north and back to Hesteyri in the south. It takes in the sheer Hornbjarg bird cliffs, mountain passes, an abandoned village and glacier fjords.
Alternatively, some use the Old Doctor's House, a cafe-turned-guesthouse in Hesteyri, as a base for day hikes. Others venture to even more remote ferry drop-off points and strike out from there.
The Environment Agency of Iceland has an online hiking map.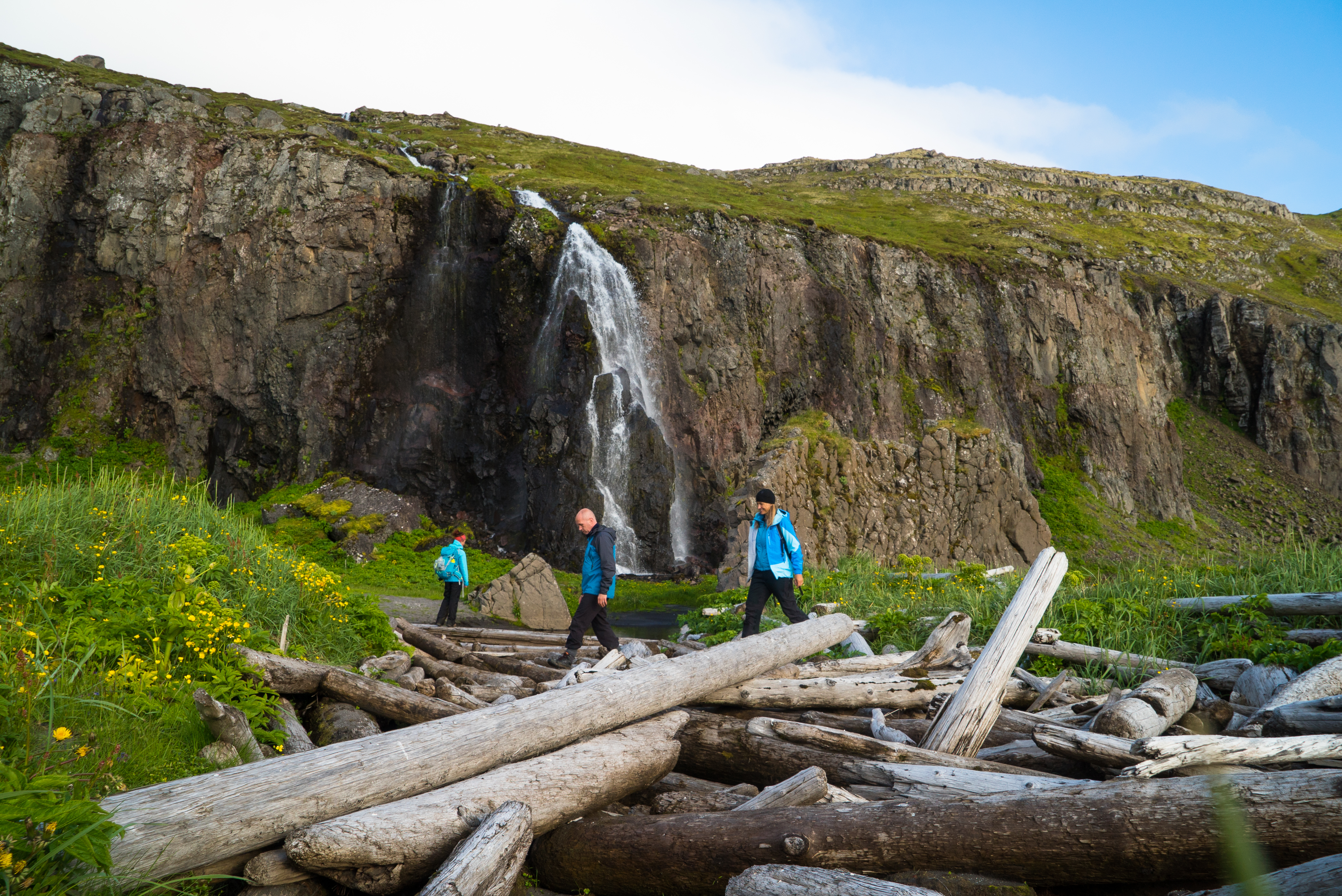 Guided tours of Hornstrandir
The harsh terrain prompts many to join guided treks. In fact, if you don't have extensive mountain experience and top-notch gear, it's the wisest and most enjoyable choice.
Firms include West Tours, Borea and Wild Westfjords – all with bases in Ísafjörður. They offer Hornstrandir hikes of varying lengths ranging from a half-day tour around the abandoned village of Hesteyri to 6-16km day hikes (3.7-9.9 miles) and six-day backpacking expeditions.
Other options include single- or multi-day kayaking tours, Arctic fox photography trips and wildlife watching tours.
They're hugely popular experiences – book early to be sure of a space.
Where to stay
You'll need to love camping to enjoy Hornstrandir – the 16 campgrounds are bare-bone affairs. You have to stick to designated locations; wild or backwoods camping isn't allowed. The Environment Agency map shows campgrounds.
Hornstrandir has a handful of hostels offering "sleeping bag accommodation" – basically a bed in a private room or dorm without bed linen; you bring your own sleeping bag and towels. But as you're carrying a lot of camping kit, that shouldn't be a problem.
The most useful hostels are:
Old Doctor's House – Hornstrandir's famous guesthouse-cafe is set in the abandoned village of Hesteyri on the southwest coast – its pancakes are legendary.
Hornbjargsviti – Right beside a lighthouse, bunk bed accommodation and campsite on Hornstrandir's northeast shore.
Reykjarfjörður – Just outside Hornstrandir's far southeast edge. Basic sleeping bag accommodation, campsite and two houses sleeping three to five people. Plus – blissfully – a geothermal pool and hot tub.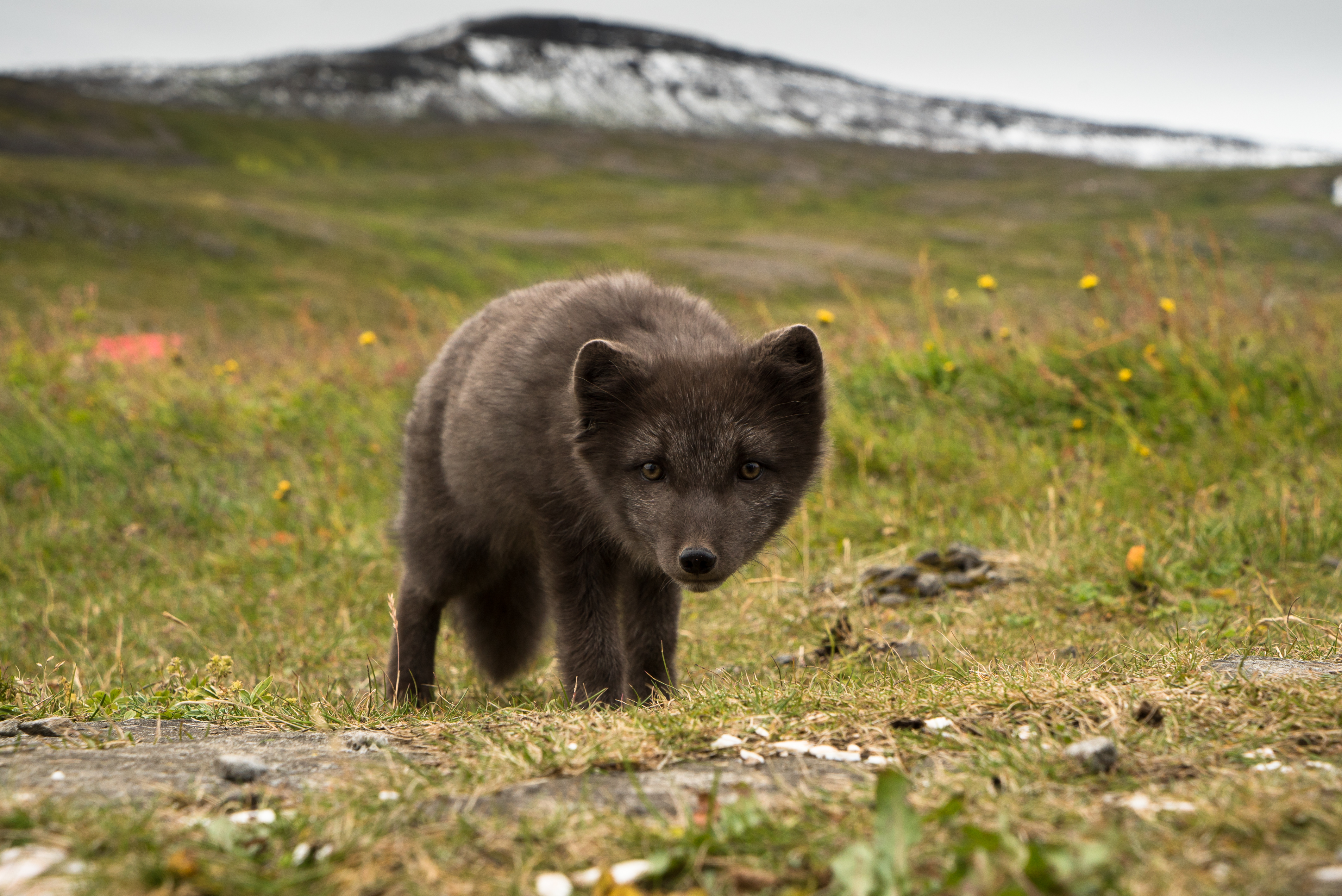 What gear and skills do you need to visit Hornstrandir?
Hornstrandir is a hazardous outdoor environment. If you're striking out on your own, be aware there are no services, no phone signal and even in summer, you're likely to encounter snow, fog and raging rivers.
Some of the trails are partly marked with cairns, others are routes on a map rather than clearly-defined paths on the ground – a detailed map, a compass and GPS are essential.
If you're planning your own trek, you'll also need to carry all gear, including clothes, tents and stoves, as well as food and rubbish. Campfires are banned. Good-quality waterproof clothes and boots and a robust tent are also a must. The Environment Agency lists useful tips and the reserve's rules.
Wardens warn that people routinely underestimate the challenges and dangers posed by Hornstrandir. Going on a guided trip ensures you'll be safe enough to enjoy all that extraordinary scenery.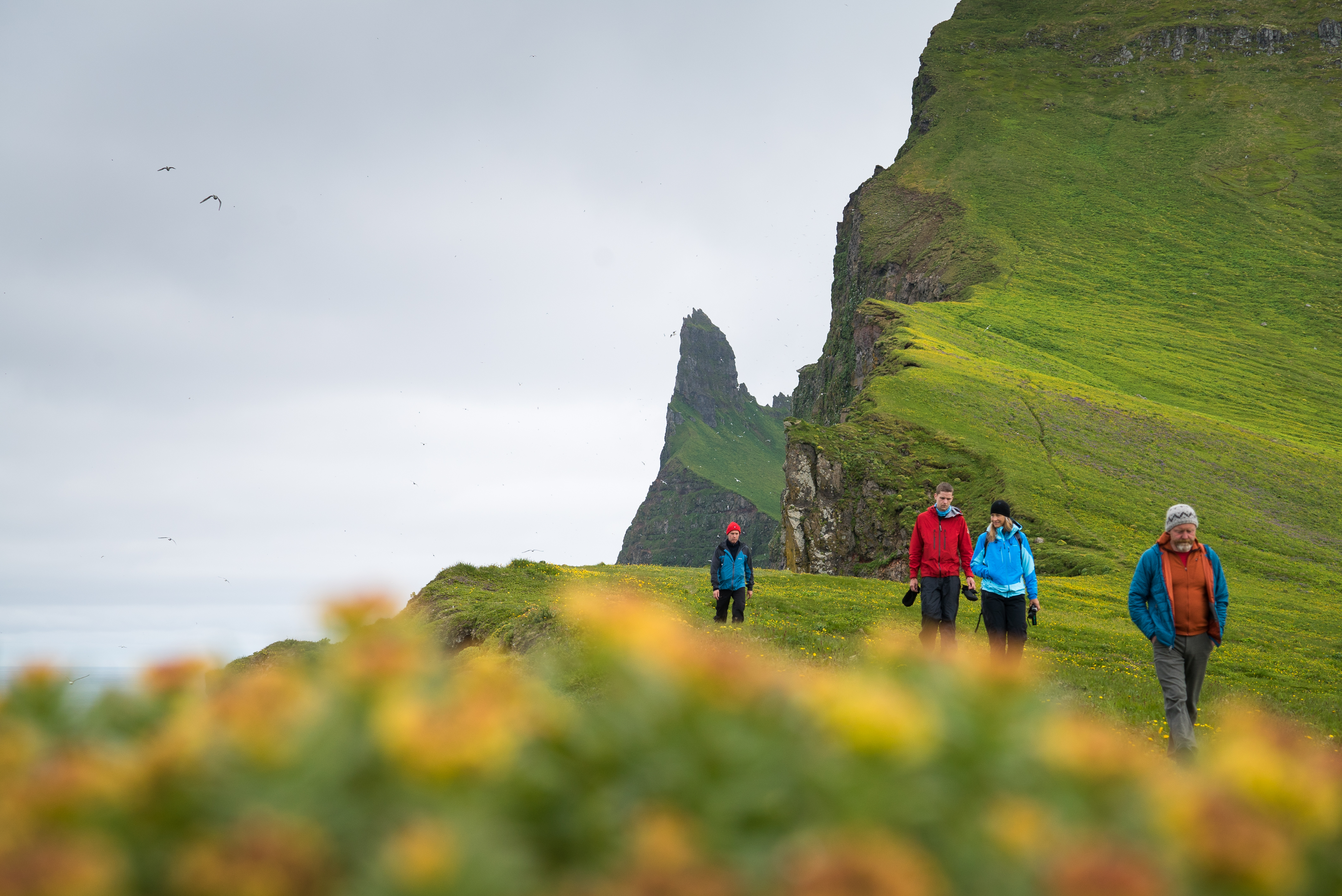 How to get to Hornstrandir
The mountainous landscape means there are no roads into Hornstrandir. Between June and August ferries, run by West Tours and Borea, shuttle from the main town of Ísafjörður and nearby Bolungarvík to a ring of drop-off points in Hornstrandir.
Strandferdir also operates boats between June and mid-August from Norðurfjörður on the Strandir coast to the eastern side of Hornstrandir.
Ferries don't run every day to each pick-up point, some operate only once or twice a week. You also need to book your return ferry in advance, so if you don't arrive, they know to send out rescue teams.
Drop-offs, routes, accommodation and collection all need to be planned thoroughly. Or join an organized trip and let the guides handle the complex logistics.
Where to go for more information
Hornstrandastofa Iceland's Environment Agency has a new Hornstrandir Visitor Centre in downtown Ísafjörður. Between September and May it's open Monday to Friday from 1pm to 3pm. Between June and August it's open Monday to Saturday from 8am to 4pm.
The agency's useful Hornstrandir information webpage is full of essential info to help you get the most out of your trip.
The region's tourist office has an office in Ísafjörður and can also advise over the phone.
Article from Lonely Planet:
https://www.lonelyplanet.com/articles/guide-to-hornstrandir