Breiðafjörður Nature Reserve is known for all it small islands, thought to be uncountable. But wether you want to sit down and count or just enjoy we highly recommend a visit to Flatey Island, the crown jewel of Breiðafjörður Bay.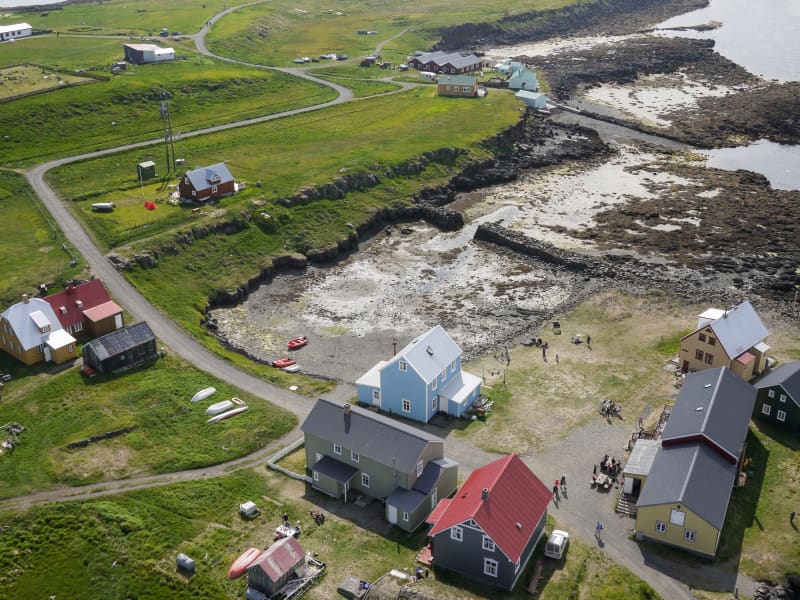 Flatey island
Breiðafjörður is the second biggest fjord in Iceland as it stretches 70 km where it is widest. Where the fjord gets more shallow there are almost uncountable number of islands but if we would have to guess a number, they would be around 2800. Many of those islands were inhabited few decades ago but now almost all are uninhabited. Flatey is the one exception. Flatey is the biggest of the islands in Breiðafjörður. It also is the only island in Breiðafjörður where inhabitants live the whole year round. The inhabitants count as many as 6 persons but during summertime the population multiplies. Many of the other islands in Breiðafjörður used to be inhabited not so long ago like Hvallátur, Svefneyjar and Akureyjar. All the islands have one thing in common. They are all made by the force of glaciers in the ice age. The islands are mostly flat and the geological layers are similar to the ones on the Westfjords. In most of the islands there are many plants and the birdlife is diverse with puffin, eider and black guillemot being the kings of the fjord along with the White-tailed-Eagle. The history tells us that the people that lived in Breiðafjörður never had to deal with shortage of food because of the plentyful gifts of nature such as birds, fish and shells. When there were bad conditions and food shortage was common in Iceland, people fled to Breiðafjörður bay where there was plenty of food for everyone. 
Hotel Flatey
Hotel Flatey is situated in the centre of the old village on Flatey, in the very heart of Breiðafjörður. The houses in the old centre are timber structures dating from the island's former times of prosperity, and most of them have been restored in their original style. Hotel Flatey now offers 6 double/twin rooms, 1 family room (3 persons), 3 suites and 2 single rooms. In total 12 rooms with 23 beds. All rooms are with shared facilities. Breakfast is included in the price. The hotel's dining room and guest rooms are in converted warehouses flanking the old market square. Guests can savour the unique ambience of the island in cosy and welcoming accommodation and enjoy choice food with a view over the village, the coastline and the nesting grounds of the arctic terns in Skansmýri.