Shortcuts
Hotel Flatey
Get directions
Hotel Flatey
Flatey á Breiðafirði
GPS Points
N65° 22' 33.373" W22° 55' 3.738"
Opening period
01/06 - 26/08
Service
Travel directory for Hotel Flatey
The official travel index of Iceland
Nature
23.45 km
Surtarbrandsgil (e. Lignite canyon) was put on the Icelandic environment protection list as a natural phenomenon in 1975. The main reason for the protection was to pretect the fossils of the flora which was to be found in mud and lignite layers between the basalt layers. Thease plant fossils are from the tertier time.
Nature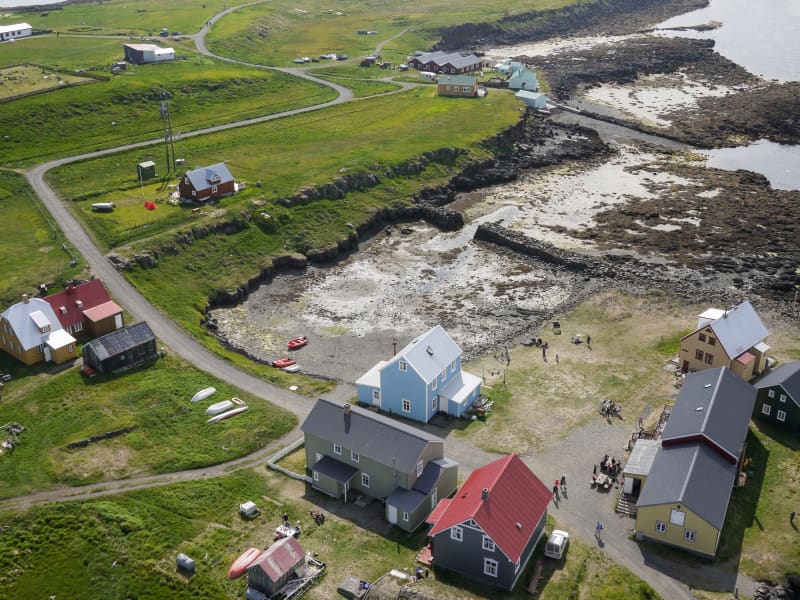 0.16 km
Breiðafjörður is the second biggest fjord in Iceland as it stretches 70 km where it is widest. Where the fjord gets more shallow there are almost uncountable number of islands but if we would have to guess a number, they would be around 2800. Many of those islands were inhabited few decades ago but now almost all are uninhabited. Flatey is the one exception. Flatey is the biggest of the islands in Breiðafjörður. It also is the only island in Breiðafjörður where inhabitants live the whole year round. The inhabitants count as many as 6 persons but during summertime the population multiplies. Many of the other islands in Breiðafjörður used to be inhabited not so long ago like Hvallátur, Svefneyjar and Akureyjar. All the islands have one thing in common. They are all made by the force of glaciers in the ice age. The islands are mostly flat and the geological layers are similar to the ones on the Westfjords. In most of the islands there are many plants and the birdlife is diverse with puffin, eider and black guillemot being the kings of the fjord along with the White-tailed-Eagle. The history tells us that the people that lived in Breiðafjörður never had to deal with shortage of food because of the plentyful gifts of nature such as birds, fish and shells. When there were bad conditions and food shortage was common in Iceland, people fled to Breiðafjörður bay where there was plenty of food for everyone.