Shortcuts
Litlabýli Guesthouse
Guesthouse in Flateyri.
We have space for up to 10 guests in a comfortable home with beautiful views of the mountains and fjord. Each room has accommodation for 2 people, in double or twin beds.
This summer, 2020, the house will be rented out as one unit.
Amenities include free wifi throughout the house and free parking. Four rooms are with shared bathroom and shower facilities and one double with privet facilities; fully equipped kitchen. Breakfast is available on request.
The house is a short walk from the convenience store, swimming pool, restaurant, and local hiking routes.
Please contact for prices and booking information.
Get directions
Litlabýli Guesthouse
Ránargata 2
GPS Points
N66° 2' 59.564" W23° 30' 49.144"
Travel directory for Litlabýli Guesthouse
The official travel index of Iceland
Others
Eagle Tours
Day Tour Provider
Urðarvegur 80
400 Ísafjörður
858-4530
Sjóferðir Hafsteins og Kiddýjar
Ferries
Hjallavegur 7
400 Ísafjörður
456-5111
Grænhöfði ehf.
Guesthouses
Ólafstúni 7
425 Flateyri
456-7762, 863-7662, 861-8976
Vestfjarðaleið
Day Tours
Sundstræti 39
400 Ísafjörður
893-8355
Ísafjörður Golf club
Golf Courses
Tungudalsvöllur
400 Ísafjörður
456-5081
Autumn Triathlon
Austurvegur 2
400 Ísafjörður
845-3191
BS-Tours
Taxi
Hjarðardalur
400 Ísafjörður
778-5080
Runners' Festival in the Isafjordur area
Daltunga 1
400 Ísafjörður
894-4208
Fosshestar
Day Tours
Kirkjuból
400 Ísafjörður
862-5669
Hiking Tours - Hiking
21.20 km
Something special - Nature and Cultural Walks with a view of Ísafjörður Ísafjörður Walk - An Interesting Journey Through Time Our guide is located at the Tourist Information Centre, dressed as a
Museums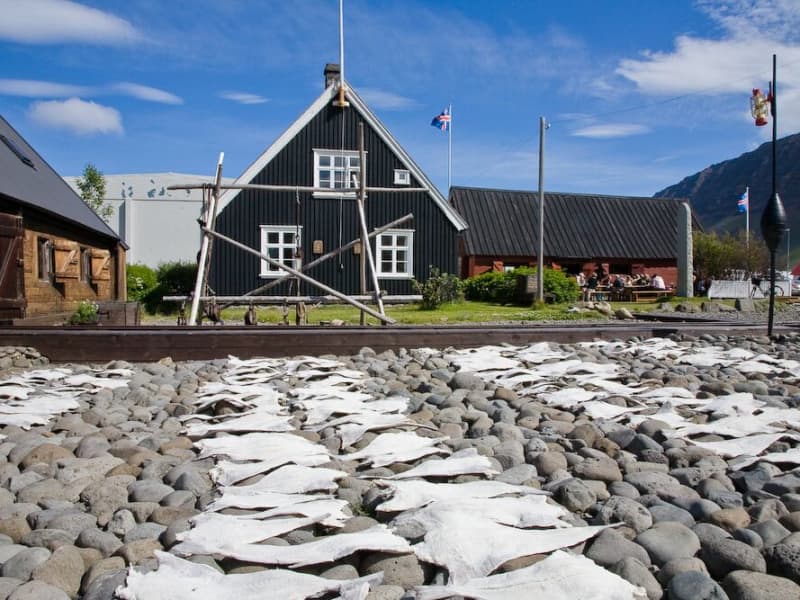 23.12 km
In most travel books referred to as the Maritime Museum. Fisheries have always been the most important economic activity in the Westfjords, and the museum gives a unique insight into the rich maritime
Museums
22.56 km
This tiny museum, located in an old shoeshop in Ísafjörður, celebrates the ordinary and tells stories that capture the beauty of everyday life in a charming way. A visit to the Museum of Everyday L
Others
Outvert Art Space
Exhibitions
Aðalstræti 22
400 Ísafjörður
868-1845
The old book shop Flateyri
Museums
Hafnarstræti 3-5
425 Flateyri
840-0600
The Culture House
Museums
Eyrartún
400 Ísafjörður
450-8220
The Nonsense Museum
Museums
Hafnarstræti 11
425 Flateyri
893-3067
Edinborg Cultural Center
Exhibitions
Aðalstræti 7
400 Ísafjörður
456-5444
Culinary experience
23.09 km
Dokkan is the Westfjords first and only brewery, that brews high class craft beer. Our micro brewery is a small family business founded in Isafjorður in Octorber 2017 merely for the purpose to make
Restaurants
22.68 km
The restaurant Við Pollinn at Hótel Ísafjörður is a fully licensed restaurant at the ground floor with a fabulous view over the harbour where guests can enjoy a wide selection of local as well as
Hotels
22.68 km
Hotel Ísafjörður Hotel Ísafjörður is a modern and comfortable hotel in the heart of Ísafjörður, the capital of the Westfjords with 36 double rooms. All the rooms are non-smoking and have pr
Others
Edinborg Bistró
Restaurants
Aðalstrætii 7
400 Ísafjörður
8924337
Gunnukaffi Café
Cafés
Hafnarstræti 11
425 Flateyri
456-7710
Bakarinn
Cafés
Hafnarstræti 14
400 Ísafjörður
456-4771
Hamraborg
Restaurants
Hafnarstræti 7
400 Ísafjörður
4563166
Heimabyggð Café
Restaurants
Aðalstræti 22b
400 Ísafjörður
6974833
Vagninn Restaurant
Restaurants
Hafnarstræti 19
425 Flateyri
456-7751
Gamla Bakariið
Cafés
Aðalstræti 24
400 Ísafjörður
456-3226
Mamma Nína Pizzeria
Restaurants
Austurvegur 1
400 Ísafjörður
4564454
Tjöruhúsið
Restaurants
Neðstikaupstaður
400 Ísafjörður
456-4419
Húsið
Cafés
Hrannargata 2
400 Ísafjörður
4565555