Shortcuts
Flateyri Camping Ground
The town Flateyri is a typical Icelandic fishing village that has based its income and survival from the sea.
In Flateyri travelers will find all the service they need. Swimming pool, sports hall, shopping and restaurants are all within 5 minutes walking distance from the camp site. The camp site is located right below the avalanche protection wall. The inner area of this wall situates a sheltered area for outdoor recreation and grilling facilities. From top of the Avalanche wall, the view is breathtaking over Flateyri and Önundarfjörður.
Get directions
Flateyri Camping Ground
Söluskáli N1
GPS Points
N66° 3' 6.534" W23° 30' 37.627"
Opening period
01/05 - 15/09
Travel directory for Flateyri Camping Ground
The official travel index of Iceland
Others
Autumn Triathlon
Austurvegur 2
400 Ísafjörður
845-3191
Fosshestar
Day Tours
Kirkjuból
400 Ísafjörður
862-5669
Sea Travels
Day Tour Provider
Kjarrholt 2
400 Ísafjörður
866-9650
Vestfjarðaleið
Day Tours
Sundstræti 39
400 Ísafjörður
893-8355
Runners' Festival in the Isafjordur area
Daltunga 1
400 Ísafjörður
894-4208
Ísafjörður Golf club
Golf Courses
Tungudalsvöllur
400 Ísafjörður
456-5081
Eagle Tours
Day Tour Provider
Urðarvegur 80
400 Ísafjörður
858-4530
BS-Tours
Taxi
Hjarðardalur
400 Ísafjörður
778-5080
Grænhöfði ehf.
Guesthouses
Ólafstúni 7
425 Flateyri
456-7762, 863-7662, 861-8976
Nature
9.86 km
Önundarfjörður is a particularly pretty fjord, even by Westfjords standards. This is partly due to Holt beach, which is a sweeping golden-sand beach and dune system which curls out into the fjord and is a bit likeSpainfor a few hot days of the year. The rest of the time it's a great walk and the dunes are a protected eider duck nesting area.
Nature
16.00 km
Sæunn the wonder-cow is a special cow which saved her own life from getting slaughtered by swimming over the cold Atlantic ocean fjord of Önundarfjörður in october 1987. The cow lived sex years after the big achievement but when it died this wonder-cow was buried near the ocean where it reached shore. Now this area has the name Sæunnarhaugur or Sæunn burial ground. This swim achievement was in Icelandic news as well as world news because of the rareness of cows willing to swim such a long distance in the cold Atlantic ocean.
Museums
22.52 km
This tiny museum, located in an old shoeshop in Ísafjörður, celebrates the ordinary and tells stories that capture the beauty of everyday life in a charming way. A visit to the Museum of Everyday L
Museums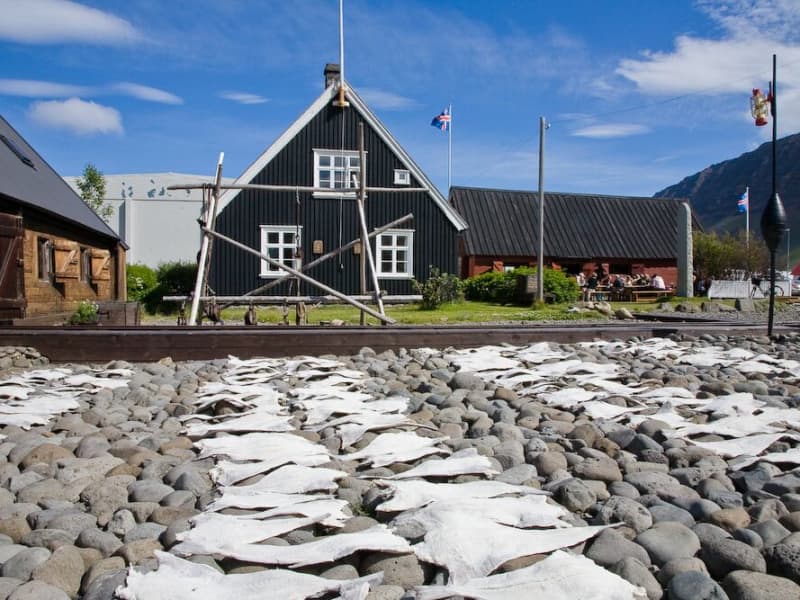 22.78 km
In most travel books referred to as the Maritime Museum. Fisheries have always been the most important economic activity in the Westfjords, and the museum gives a unique insight into the rich maritime
Hiking Tours - Hiking
20.83 km
Something special - Nature and Cultural Walks with a view of Ísafjörður Ísafjörður Walk - An Interesting Journey Through Time Our guide is located at the Tourist Information Centre, dressed as a
Others
The Nonsense Museum
Museums
Hafnarstræti 11
425 Flateyri
893-3067
Outvert Art Space
Exhibitions
Aðalstræti 22
400 Ísafjörður
868-1845
Edinborg Cultural Center
Exhibitions
Aðalstræti 7
400 Ísafjörður
456-5444
The Culture House
Museums
Eyrartún
400 Ísafjörður
450-8220
The old book shop Flateyri
Museums
Hafnarstræti 3-5
425 Flateyri
840-0600
Others
Heimabyggð Café
Restaurants
Aðalstræti 22b
400 Ísafjörður
6974833
Bakarinn
Cafés
Hafnarstræti 14
400 Ísafjörður
456-4771
Vagninn Restaurant
Restaurants
Hafnarstræti 19
425 Flateyri
456-7751
Mamma Nína Pizzeria
Restaurants
Austurvegur 1
400 Ísafjörður
4564454
Gunnukaffi Café
Cafés
Hafnarstræti 11
425 Flateyri
456-7710
Gamla Bakariið
Cafés
Aðalstræti 24
400 Ísafjörður
456-3226
Tjöruhúsið
Restaurants
Neðstikaupstaður
400 Ísafjörður
456-4419
Húsið
Cafés
Hrannargata 2
400 Ísafjörður
4565555
Hamraborg
Restaurants
Hafnarstræti 7
400 Ísafjörður
4563166