Shortcuts
Við fjörðinn Guesthouse
Get directions
Við fjörðinn Guesthouse
Aðalstræti 26
GPS Points
N65° 52' 42.143" W23° 29' 43.136"
Opening period
01/05 - 31/10
Service
Travel directory for Við fjörðinn Guesthouse
The official travel index of Iceland
Swimming Pools
0.57 km
Camping ground open May 15th - Sep. 15th
Others
Þingeyri Swimming Pool
Swimming Pools
Íþróttamiðstöðin
470 Þingeyri
450-8470
Reykavik viking adventure
Day Tour Provider
Vesturgata 27
101 Reykjavík
842-6660
Simbahöllin
Tourist Information Centres
Fjarðargata 5
470 Þingeyri
8996659, 869-5654
Gláma Golf club
Golf Courses
Meðaldalur
470 Þingeyri
-
Nature
20.53 km
Svalvogar is a 49-kilometre circular route between the fjords of Dýrafjörður and Arnarfjörður. It usually starts and finishes in Þingeyri and takes the narrow exposed coastal track around the headland (not to be attempted at high tide) and comes back along the Kaldbakur route, past the Westfjords' tallest mountain in the so-called Westfjords Alps. Sometimes called the Dream Road, Svalvogar is among the most beautiful routes in the country. It is not suitable for small cars and is best enjoyed by mountain bike. Be prepared to get out of breath…or take a 4x4.
If passangers are afraid of heights it is advised to start the route from Arnarfjörður and drive it over to Dýrafjörður, then in case of passing another car yours will be on the right side of the road, not quite as intimidating as driving along side the sea.
Nature
17.91 km
Arnarfjordur, 5-10 kilometres wide and 30 kilometres long, is bordered by Slettanes to the north and Kopanes to the south. At its head, it forks at the Langanes promontory to form Suðurfirðir to the south and Borgarfjordur and Dynjandisvogur to the north. The bay of Dynjandisvogur is known for the waterfall Dynjandi, which plummets over the edge of the cliff. Measuring 30 meters wide at the top and 60 meters at the bottom, Dynjandi is about 100 meters high, the most impressive waterfall in the Westfjords and one of the most beautiful in all of Iceland. Below it, a series of waterfalls cascade. Arnarfjordur is one of the most beautiful fjords in the Westfjords because of its diverse landscape, magnificent mountains and the natural masterpieces of Ketildalir and the Dynjandi waterfall.
Nature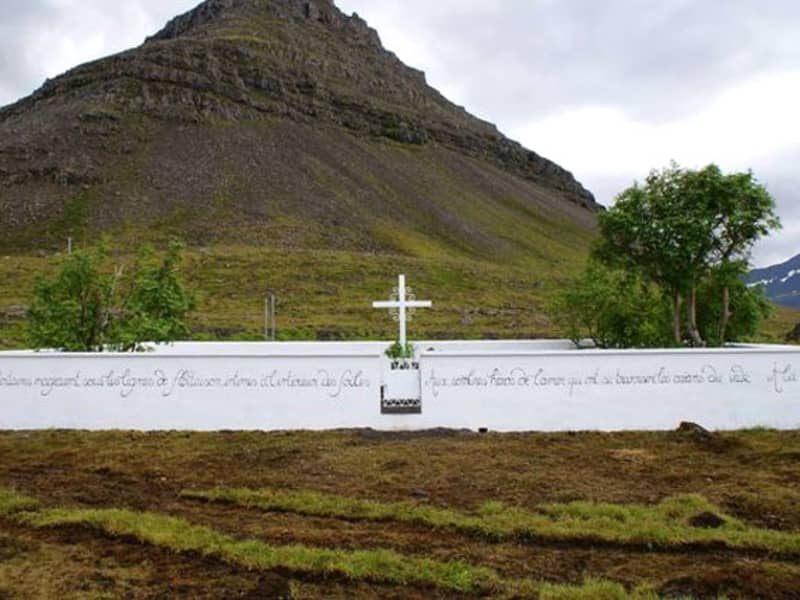 7.16 km
The connection between France and Iceland plays a big role in the story of Þingeyri and Dýrafjörður. What's left of this connection can easily be seen in, the well taken care of, graveyard of the french seamen in Haukadalur. The French came to Iceland to use the wealthy fishing grounds in the 18th and 19th century. The French also had an idea of colonizing Dýrafjörður as a fishing station and a Army station.
Exhibitions
7.68 km
Find us on Facebook here.
Others
Jón Sigurðsson Memorial Museum
Museums
Hrafnseyri, Arnarfjörður
471 Þingeyri
456-8260, 845-5518
Gallery Koltra
Crafts & Design
Hafnarstræti 5
470 Þingeyri
456-8304
Others
Jón Sigurðsson Memorial Museum
Museums
Hrafnseyri, Arnarfjörður
471 Þingeyri
456-8260, 845-5518
Simbahöllin
Tourist Information Centres
Fjarðargata 5
470 Þingeyri
8996659, 869-5654
Hotel Sandafell
Hotels
Hafnarstræti 7
470 Þingeyri
456-1600
Númi guesthouse
Guesthouses
Núpur
470 Þingeyri
844-0064