Shortcuts
Vestur restaurant
Vestur restaurant is a family restaurant in Patreksfjörður that offers a variety of dishes, including fish soup, hamburgers, pizza, salad, tacos and more. We focus on using fresh, local ingredients as much as possible. We hava a bar and show football games and other sport events.
Get directions
Vestur restaurant
Aðalstræti 110
GPS Points
N65° 35' 27.258" W23° 58' 33.769"
Travel directory for Vestur restaurant
The official travel index of Iceland
Swimming Pools
0.71 km
A beautiful outdoor pool which offers a spectacular view over the fjord. The pool is 16,5 x 8 meters, two hot pots and one small pool, sauna. Gym with technogym facilities and a 900 m2 sport arena O
Camping
17.53 km
Tálknafjörður swimming pool has to offer many activities. There is an 25 meter outdoor pool, two hot tubs, sauna, cold tub, baby pool and waterslide. There is also a lift for disabled people to ass
Others
Patreksfjörður Golf club
Golf Courses
Vestur-Botn
450 Patreksfjörður
846-1362, 892-3968
For the Children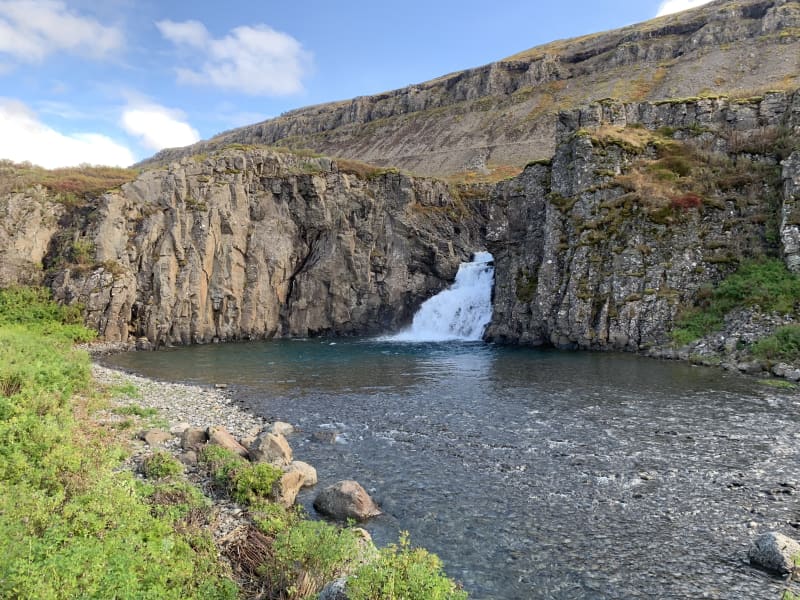 13.23 km
In Patreksfjörður fjord there is a small beautiful waterfall.
History and Culture
20.04 km
Suðureyri is located in the district of Tálknafjarðarhreppur. Suðureyri is situated on the south side of the fjord of Tálknafjörður and was the location of an old whaling station built at the end of the 19th century by Norwegian whale hunters. The station was on and off operation for around 50 years until the year 1939 and is now deserted. During its busiest times around 110 people lived and worked at the station. Today the great buildings are grand monuments of times past.
For the Children
15.65 km
Garðar BA is Iceland's oldest steel ship now placed on the beach near Patreksfjörður. The ship is a popular stop for travellers. The peculiar location of the ship and it's industrial and rustic surface makes it an interesting photography location. Originally the ship came to Iceland during WWII and got the name Siglunes SI 89. In 1963 the ship's engine was recplaced and it's name changed to Garðar BA 64. In 1981 the ship was in bad condition and declared unsafe for service. It now lies in Skápadalur in Patreksfjörður in a shallow shore.
Others
Exhibition: "The French Fishermen and the Old Time."
Exhibitions
Mýrar 8
450 Patreksfjörður
456-1140, 892-5059
Húsið-House of Creativity
Exhibitions
Eyrargata
450 Patreksfjörður
695-7620, 831-1255
Vinahus museum
Museums
Brunnar 18 / Haukur Már Sigurðsson
450 Patreksfjörður
892-5561
Cafe Dunhagi
Tourist Information Centres
Sveinseyri
460 Tálknafjörður
662-0463
Restaurants
16.76 km
Find us on Facebook here.
Restaurants
0.86 km
Stúkuhúsið café/restaurant has a great location in the middle of the town Patreksfjordur, right next to the pool. The view from Stúkuhúsið is stunning, overlooking the fjord. Available is soup
Restaurants
1.61 km
FLAK is a house of arts, a cultural orientated pub and fish-soup restaurant at Patreksfjörður harbour in the Icelandic West Fjords. Join us for some snacks and home brewed beer and you might even ca
Others
Cafe Dunhagi
Tourist Information Centres
Sveinseyri
460 Tálknafjörður
662-0463