Shortcuts
Sheep Farming Museum
The Sheep Farming Museum is an interesting and entertaining exhibition about the Icelandic sheep and sheep farming. The exhibition focuses on providing diverse entertainment for all ages. The children can enjoy themselves in their own room, in which are toys and colour books, while the grown-ups can view the exhibition. The museum also has a small science room where people can take a look at various things through a microscope. One of the main attractions in the Sheep Farming Museum are the lambs, which the visitors can feed with milk from a bottle.
Sævangur also houses a small and cosy coffee bar where guests can sit down and relax over a cup of coffee and genuine Icelandic cakes and bread. Handicraft- and souvenir store placed in the lobby of Sævangur sells crafts made mostly by locals.
The museum is located 12 km. south of Hólmavík
Opening hours June 1st - August 31st:
Week days: 10:00-18:00
Saturdays: 10:00-18:00
Sundays:10:00-18:00
Open on request during winter.


Get directions
Sheep Farming Museum
Sævangur við Steingrímsfjörð, by road 68
GPS Points
N65° 38' 27.456" W21° 35' 0.752"
Opening period
01/06 - 31/08
Travel directory for Sheep Farming Museum
The official travel index of Iceland
Swimming Pools
11.10 km
Whale Watching
11.65 km
Láki Tours offers responsible whale watching from Hólmavík in the south-eastern Westfjords area called Strandir. The most common whales in the fjord are humpback whales. They are known for their sp
Others
Victor Örn Victorsson / Strandahestar / Horse Rental
Day Tours
Víðidalsá
510 Hólmavík
862-3263
Hólmavík Golf club
Golf Courses
Hafnarbraut 18
510 Hólmavík
892-4687
Nature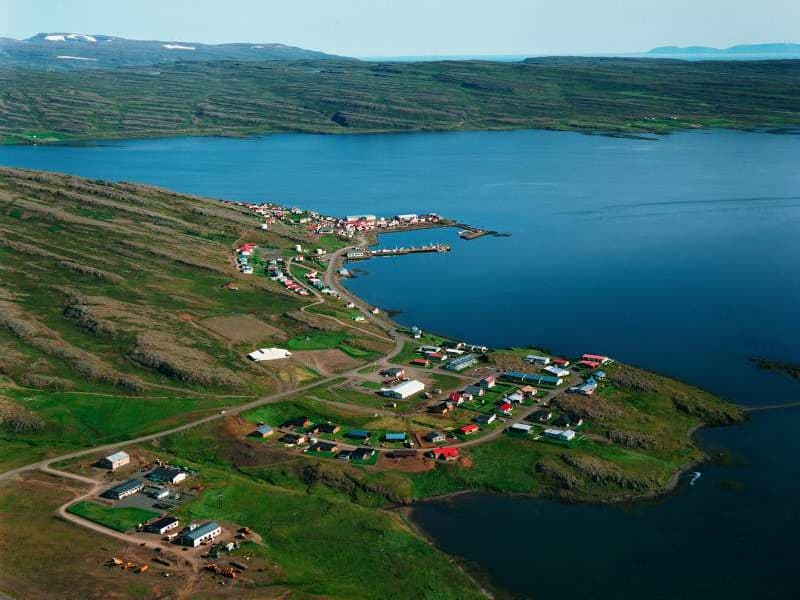 12.39 km
the hike to Kálfanesborgir above Hólmavík is quite short and easy. The hike starts at the camping ground and there is a trail that leads you to a small cairn on top of the hill. This cairn is called Háborgarvarða. From this spot you can enjoy the view over Steingrímsfjörður and Grímsey island. This spot is also perfect to take pictures or to rest a bit for the journey home. When you walk again into Hólmavík you can either go the same route, or you can make it a loop by walking towards the ocean on the other side until you reach the old mainroad. This road will then lead you towards the town again and you'll find your way.
Museums
12.10 km
The Museum of Sorcery and Witchcraft was opened in the summer of year 2000 and attracts around 11 thousand guests every year. The exhibition tells the story of the witchcraze in Iceland in the 17th ce
Museums
12.10 km
The Museum of Sorcery and Witchcraft was opened in the summer of year 2000 and attracts around 11 thousand guests every year. The exhibition tells the story of the witchcraze in Iceland in the 17th ce
Others
Café Riis
Cafés
Hafnarbraut 39
510 Hólmavík
451-3567
Midhus
Farm food direct
Miðhús, Kollafirði
510 Hólmavík
451-3340, 663-4628
Husavik
Farm food direct
Húsavík
510 Hólmavík
451-3393, 845-8393