Shortcuts
Melanes camp site
Get directions
Melanes camp site
Melanes, Rauðasandi
GPS Points
N65° 26' 48.104" W23° 56' 55.652"
Opening period
15/05 - 15/09
Service
Travel directory for Melanes camp site
The official travel index of Iceland
Others
Patreksfjörður Golf club
Golf Courses
Vestur-Botn
450 Patreksfjörður
846-1362, 892-3968
Nature
4.14 km
Rauðasandur (Red Sand) is precisely that: a beach with endless red sand. Well, not endless but 10 km is a lot. The magnificent hues of the sand differ with daylight and weather, and the beach is the biggest pearl in a string of coves with sand ranging in colours from white through yellow through red to black, and in coarseness from very fine to sole-hurting chips of seashells. Just pure sand enlivened by countless seabirds and seals, an oasis with unique tranquility. Forget everything, except maybe getting the perfect shot of the ever-changing hues of yellow, orange and red.
Here's just pure sand and unique tranquillity. You might want to step out of the car, get the camera out and start walking on the seemingly endless beach.
If no, why not enjoy a cup of coffee in the French café and look at the spectacular view were Snæfellsjökull glacier in Sæfellsnes peninsula imperiousl rivets your attention in the background.
For the Children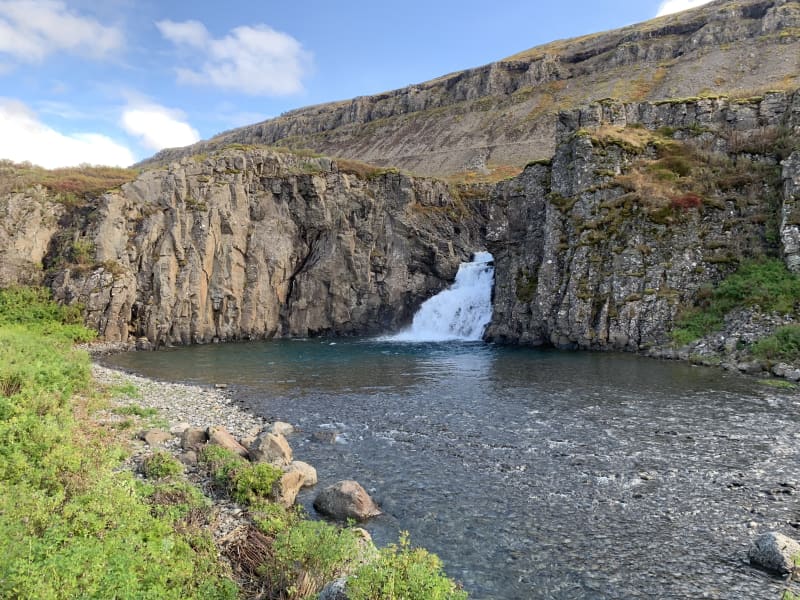 22.33 km
In Patreksfjörður fjord there is a small beautiful waterfall.
Others
Kirkjuhvammur
Cafés
Rauðisandur
451 Patreksfjörður
866-8129