Shortcuts
Þingeyri Swimming pool
Get directions
Þingeyri Swimming pool
Þingeyraroddi
GPS Points
N65° 52' 49.980" W23° 29' 33.029"
Service
Travel directory for Þingeyri Swimming pool
The official travel index of Iceland
Camping
0.75 km
The Þingeyri campground offers excellent facilities in a brand new, wheelchair acessible service building with a kitchen and showers. The campground also offers electriciti and lavatory disposal for
Farm Holidays
19.26 km
Gemlufall There are two apartments in the house and can be rented separately or the whole house. Apartment 1 6 persons Apartment 2 6 persons + a sofabed for 2 All beds are made and a towel is for
Others
Við fjörðinn Guesthouse
Guesthouses
Aðalstræti 26
470 Þingeyri
847-0285 , 456-8172
Hotel Sandafell
Hotels
Hafnarstræti 7
470 Þingeyri
456-1600
Höfði Guesthouse
Bed & Breakfast
Dýrafjörður
471 Þingeyri
833-4994
Númi guesthouse
Guesthouses
Núpur
470 Þingeyri
844-0064
Nature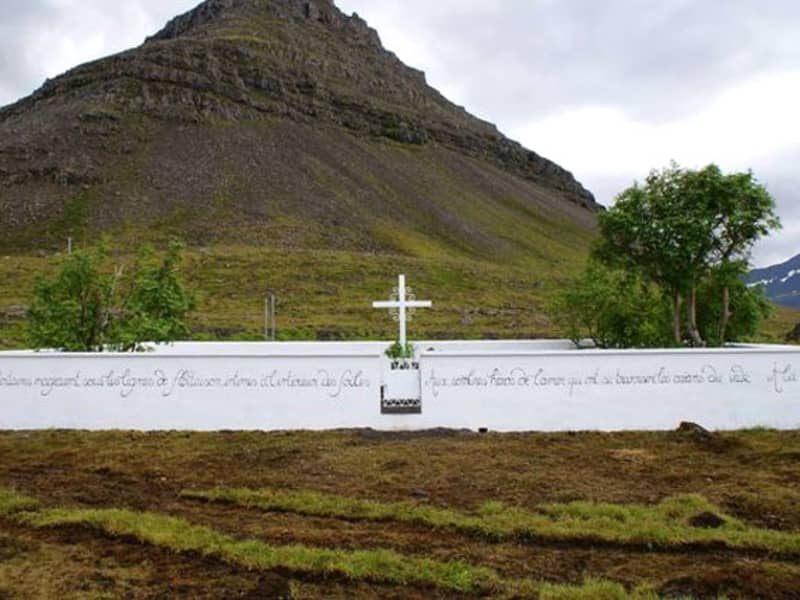 7.51 km
The connection between France and Iceland plays a big role in the story of Þingeyri and Dýrafjörður. What's left of this connection can easily be seen in, the well taken care of, graveyard of the french seamen in Haukadalur. The French came to Iceland to use the wealthy fishing grounds in the 18th and 19th century. The French also had an idea of colonizing Dýrafjörður as a fishing station and a Army station.
Nature
18.01 km
Arnarfjordur, 5-10 kilometres wide and 30 kilometres long, is bordered by Slettanes to the north and Kopanes to the south. At its head, it forks at the Langanes promontory to form Suðurfirðir to the south and Borgarfjordur and Dynjandisvogur to the north. The bay of Dynjandisvogur is known for the waterfall Dynjandi, which plummets over the edge of the cliff. Measuring 30 meters wide at the top and 60 meters at the bottom, Dynjandi is about 100 meters high, the most impressive waterfall in the Westfjords and one of the most beautiful in all of Iceland. Below it, a series of waterfalls cascade. Arnarfjordur is one of the most beautiful fjords in the Westfjords because of its diverse landscape, magnificent mountains and the natural masterpieces of Ketildalir and the Dynjandi waterfall.
Nature
20.88 km
Svalvogar is a 49-kilometre circular route between the fjords of Dýrafjörður and Arnarfjörður. It usually starts and finishes in Þingeyri and takes the narrow exposed coastal track around the headland (not to be attempted at high tide) and comes back along the Kaldbakur route, past the Westfjords' tallest mountain in the so-called Westfjords Alps. Sometimes called theDream Road, Svalvogar is among the most beautiful routes in the country. It is not suitable for small cars and is best enjoyed by mountain bike. Be prepared to get out of breath…or take a 4x4.