Shortcuts
Hólmavík is the largest town in the Strandir region, an area with an exciting and tragic history of witchcraft, witch-hunting and sorcery. Inhabitants in the countryside surrounding Hólmavík live mostly on sheep farming, while economic activity in town revolves around the fisheries and the service sector.
The Museum of Sorcery & Witchcraft takes visitors on a tour into the mystical world of the supernatural. The history of witch-hunting in 17th century Iceland is presented at the exhibition as well as various aspects of magic from more recent sources. A second part of the exhibition is in Bjarnarfjörður, 30 kilometres from Hólmavík. Next to Hólmavík there is also the Sheep Farming Museum, an entertaining exhibition dedicated to the Icelandic sheep and sheep farming.
Visitors will find all basic amenities, and more, in Hólmavík. Accommodation of various kind, a camping ground, restaurants, a newly built swimming pool and a good Tourist Information Center that serves the hole area. A golf course and a horse rental can be found just outside the town.
Hólmavík is reacheble from Reykjavík by bus two to four days per week, depending on seasons. There are also two to three busses per week between Hólmavík and Ísafjörður.
Get directions
Hólmavík
GPS Points N65° 42' 23.389" W21° 40' 9.105"
Travel directory for Hólmavík
The official travel index of Iceland
Others
Hólmavík Golf club
Golf Courses
Hafnarbraut 18
510 Hólmavík
892-4687
Theme-Travel Iceland
Travel Agency
Bakki, Bjarnarfirði
510 Hólmavík
451-3384, 864-2419, 451-3384
Svaðilfari
Travel Agency
Laugarholt
510 Hólmavík
456-4858, 869-4859
Victor Örn Victorsson / Strandahestar / Horse Rental
Day Tours
Víðidalsá
510 Hólmavík
862-3263
Guesthouses
The Broddanes HI Hostel is open from mid June to late August and during this period the reception is open daily from 17:00-22:00. Outside these hours the staff can normally be reached by cell phone.
Guesthouses
Kirkjubol is a charming resting place centrally located in Strandir area in Iceland. It is an ideal place for families and for all those wishing to enjoy the best of what Strandir County and environs
Guesthouses
Finna Hótel is located in the center of Hólmavík with a beautiful view over Steingrímsfjörður and the old town. Hólmavík is a small fishing village in the West fjords of Iceland, where there
Others
Hólmavík Guesthouse
Guesthouses
Hafnarbraut 22
510 Hólmavík
8960587, 896-0587
Hólmavík Camping Ground
Camping
Jakobínutúni
510 Hólmavík
451-3560
Steinhúsið guesthouse
Guesthouses
Höfðagata 1
510 Hólmavík
856-1911
Museums
The Museum of Sorcery and Witchcraft was opened in the summer of year 2000 and attracts around 11 thousand guests every year. The exhibition tells the story of the witchcraze in Iceland in the 17th ce
Museums
The Sheep Farming Museum is an interesting and entertaining exhibition about the Icelandic sheep and sheep farming. The exhibition focuses on providing diverse entertainment for all ages. The children
Others
Husavik
Farm food direct
Húsavík
510 Hólmavík
451-3393, 845-8393
Midhus
Farm food direct
Miðhús, Kollafirði
510 Hólmavík
451-3340, 663-4628
Café Riis
Cafés
Hafnarbraut 39
510 Hólmavík
451-3567
Nature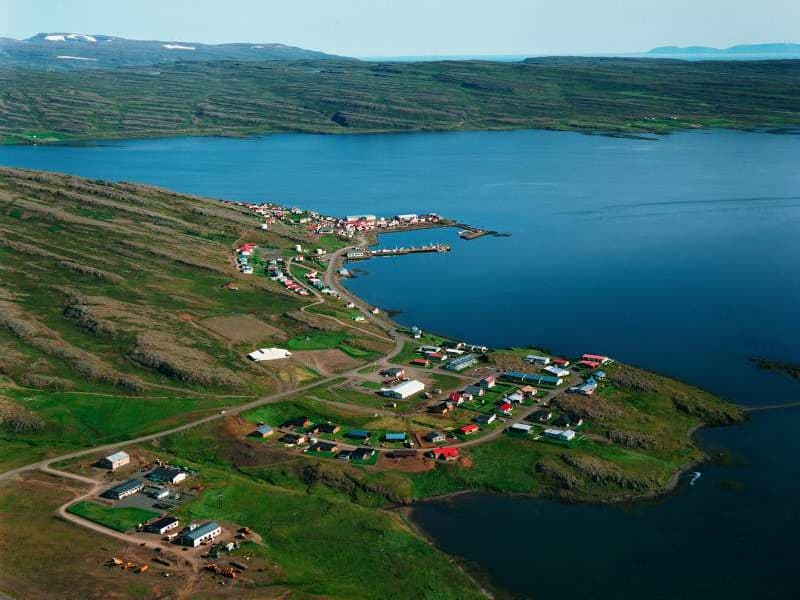 the hike to Kálfanesborgir above Hólmavík is quite short and easy. The hike starts at the camping ground and there is a trail that leads you to a small cairn on top of the hill. This cairn is called Háborgarvarða. From this spot you can enjoy the view over Steingrímsfjörður and Grímsey island. This spot is also perfect to take pictures or to rest a bit for the journey home. When you walk again into Hólmavík you can either go the same route, or you can make it a loop by walking towards the ocean on the other side until you reach the old mainroad. This road will then lead you towards the town again and you'll find your way.
Nature
Near to Steingrímsfjörður and the village of Hólmavík, you find Bjarnarfjörður fjord, on Route 643, in the municipality of Kaldraneshreppur.
Not many people live nearby, but four things mark this small fjord out as special: first the Gvendarlaug hot pool, the water in which was blessed by Bishop Guðmundur Góði Arason in the 1200s - today it is a protected national monuement. Second is the excellent Arctic char fishing in Bjarnarfjarðará river. Thirdly is Hótel Laugarhóll, a modern and comfortable country hotel with a swimming pool, a restaurant and a museum on site. And finally Bjarnarfjörður is home to the Sorcerer's Cottage, an offshoot of Hólmavík's famous Museum of Witchcraft and Sorcery.